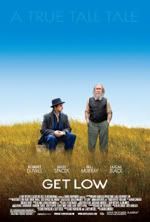 Get Low
2009 -- Rated PG13
Director: Aaron Schneider
Robert Duvall, Bill Murray, Lucas Black
As I sat and watched this film I wondered if
Robert Duvall
ever did a bad film. I couldn't think of any. I even looked him up on the Internet Movie Database (IMDb) to see if there were films that might have been less than stellar. The answer is no. Well, there was
Gone in 60 Seconds
which wasn't a highly acclaimed film but it was fun and Duvall's character definitely helped that movie stay away from the basement.
In
Get Low
, Duvall plays a cantankerous old hermit in rural 1930's Tennessee who sets out to throw his own funeral party while he is still alive but with a catch - those attending have to tell a story about him.
The story is well crafted, the casting is superb and the acting is above par.
Bill Murray
(
Stripes, Lost in Translation
) is absolutely mesmerizing as Frank Quinn the slightly skewed owner of the funeral parlor. Other notable performances include
Sissy Spacek
(
Carrie, Coal Miner's Daughter
),
Gerald McRaney
(TV's
Simon & Simon
), and
Lucas Black
(
The Fast and the Furious: Tokyo Drift
) as Buddy, a young up and coming funerary apprentice.
As wonderful as all the performances are, Duvall's acting stands far above his castmates. Get Low is humorous at times, nostalgic always and poignant when it needs to be - in short it is a masterpiece of film-making.