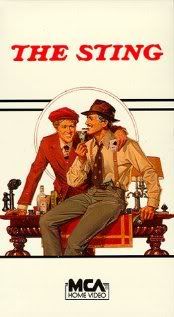 The Sting
1973 -- Rated PG
Director: George Roy Hill
Paul Newman, Robert Redford, Robert Shaw
It's a damp cold day today so I pulled out my copy of the DVD
The Sting
, the 1973 classic con movie staring
Paul Newman
and
Robert Redford
. I don't know for sure what it is about a grifter movie I love so much - maybe it's the intricate plot twists involved, maybe it's the level of trust the con artists must have in each other, but whatever it is I love it and
The Sting
is a masterpiece of con movies as evidenced by the seven academy awards it walked away with including Best Director (George Roy Hill), Best Music (Marvin Hamlisch), Best Screenplay (David Ward) and of course Best Picture.
As a period piece
The Sting
is a jewel. The costumes (which also won an Oscar), the vintage cars, the locales (again, also an Oscar for set design) and the lingo are breathtaking to behold. The character actors in this movie read like a Who's Who of character actors with
Harold Gould
(
Patch Adams
),
Ray Walston
(
South Pacific
and TV's
My Favorite Martian
),
Dana Elcar
(TV's
MacGyver
), and many more. Newman and Redford though are, of course, the stars and their bountiful talent plays well against each other. In fact I feel their performances in
The Sting
are far superior to the other great buddy film they joined forces in -
Butch Cassidy and the Sundance Kid
(also a George Roy Hill film).
The premise of the sting is the long con of a dangerous New York racketeer (
Robert Shaw
) in retaliation for his having a friend of theirs killed. Pitting Lonnegan's (Shaw) weaknesses against himself the duo of Gondorff (Newman) and Hooker (Redford) lead an ensemble of veteran con artists in a magnificent game of deception to lure Lonnegan in and take him for half a million dollars (which in the 1930's was a lot of money) and to do it without him knowing he was taken.
So if you can find it on iTunes or Amazon or Netflix or any of those movie services you really need to invest in it and pull it out on a wet rainy day - believe me, it'll make you feel good!