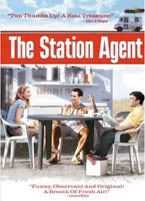 The Station Agent
2003 -- Rated R
Director: Thomas McCarthy
Peter Dinklage, Patricia Clarkson, Paul Benjamin
This jewel of a film is one of my top movies of 2003. Peter Dinklage (from TV's Threshold) is Finbar McBride, a man born with dwarfism. McBride leads a quiet life in the city until his best friend dies. Inheriting a small abandoned train depot in Newfoundland, NJ, he is determined to live an isolated existence. As the film progresses he encounters a small group of local characters from whom he tries to keep his distance, both physically and emotionally, but to no avail and eventually he befriends the quirky ensemble.
Though this film would lack its punch without the dwarf storyline, it does not pander to silly stereotypical short jokes. In fact, the story rarely touches on McBride's size, choosing instead to delve into the intricacies of the different characters personalities and relationships. Dinklage's performance is stunning. His skill at conveying every emotion with just an expression is remarkable. Add to that a powerful storyline and a quality supporting cast and you'll begin to see why this film was nominated for just about every film award there is and won Dinklage a Screen Actors Guild award for Outstanding Performance by a Male Actor in a Leading Role.
Light at times, sad at times and perfect from start to finish, The Station Agent is well worth renting, but even more so it is a powerful addition to anyones movie library.